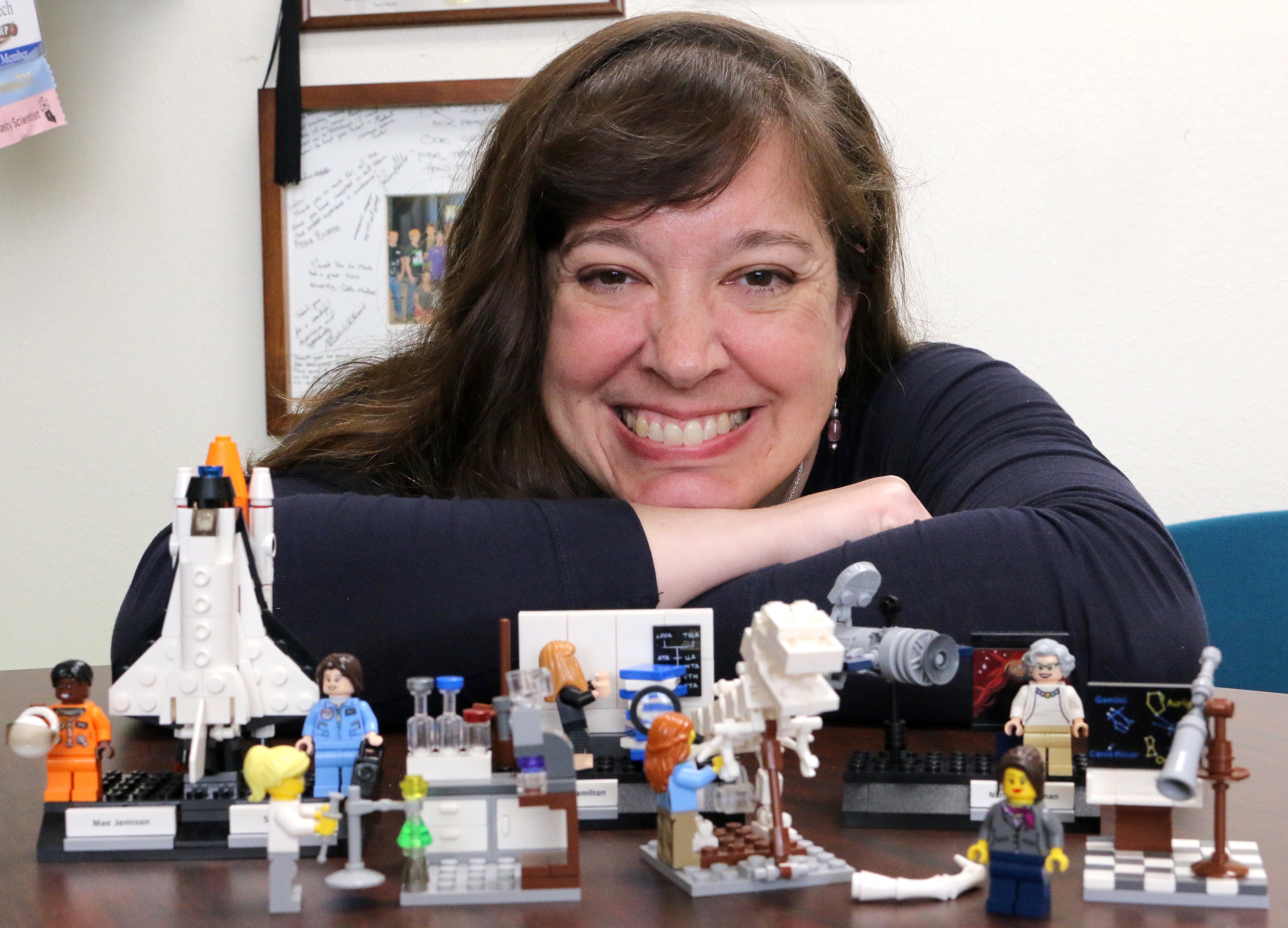 I've always wanted to be an astronomer, ever since I was very little. I grew up in the Washington, D.C. area, where my favorite museum, no contest, was the National Air and Space Museum. As a kid, I was a "NASA junkie," collecting NASA lithographs, which was how NASA made "pretty pictures" available to the public before the web. I was born after Apollo 11, but the sheer coolness of NASA things was indescribable, and the images from Voyager mission hit me at just the right time to really entrance me.

As a girl interested in science and technology, sometimes I felt a little left out. In kindergarten, for the after-Christmas show-and-tell, I was in tears because I was the only little girl who didn't bring in a doll -- I brought my motorized Lego set, which I hadn't put down since I got it. (I had received dolls, but they were still in their plastic packaging!) Sometime in mid-elementary school, I learned astronomers needed math, and somehow I decided that of course girls can't do math! It took me until college(!) to get over that. I went to William and Mary in Williamsburg, VA because it was good in a lot of different things -- I figured if I didn't like physics, I'd major in chemistry or maybe even history. Much to my surprise, I did like physics, and I was pretty good at it. (I ended up taking a lot of Colonial American history too.) I went to grad school in astronomy and astrophysics at the University of Chicago. In college, math was a tool to be gotten through as soon as possible so you could get to the physics, and in graduate school, physics was a tool to be gotten through as soon as possible so you could get to the astrophysics! (That doesn't mean that I find these things easy, just that they are something to be gotten through as soon as possible... sort of like brussels sprouts...)

I do research on young stars all over our Galaxy, using Spitzer as well as many other telescopes. I've spent a particularly large amount of time studying variability of young stars, which in many cases is driven by stellar rotation. Without rotation, stars don't have magnetic fields, and without magnetic fields, the Sun would be as boring as most people think it is. I have studied rotation of young stars primarily in and around the Orion Nebula Cluster (the fuzzy patch in the sword) and NGC 2264. These "teenage" stars will grow up to be stars like our Sun, and exactly how fast they rotate may have something to do with whether or not they are forming planets. I had a Spitzer press release in 2006 about some Spitzer results on this topic. Separately, I also have done some work on the chemical abundances of these young stars as well as some of the oldest stars in our Galaxy.

In addition to all of the science I learned in grad school, I also learned that I enjoy sharing what I do with the general public. I feel strongly that since taxpayers help pay for my salary, that they deserve to find out what I do in terms that they can understand. I've done lots of education and public outreach things, but a unifying theme is working with the general public and/or teachers (not so much working in a classroom). In the beginning (in Chicago), I volunteered at Adler Planetarium and worked with the CARA Space Explorers. I helped found an organization that brought the internet (T-1 lines) to 29 inner-city schools around the University; it continues to work with the teachers to enhance teaching and learning through the use of the internet and other computer technologies. In 2005, I started with what was then known as the Spitzer Teachers Project. This program partnered small groups of educators with a research astronomer for a year-long research project. In 2009, it got retooled and reorganized into the NASA/IPAC Teacher Archive Research Project (NITARP), and I became its director. I have worked with several different teams on several different projects -- see the NITARP website for details.

After grad school, before working for Spitzer, I had what was then called an NRC Fellowship (now they are NASA fellowships) to be a postdoctoral fellow at JPL with Mike Werner. Given Mike's dedication to Spitzer, perhaps it was not surprising that I went to work for Spitzer!

I came to the Spitzer Science Center in 2003. I have been a member of both the MIPS Instrument Support Team and the Observer Support Team, and the Community Affairs Team. What Obsever Support and Community Affairs both do is act the interface between the observatory and the astronomical community (as opposed to the general public). Now, I work for the Infrared Science Archive (IRSA). IRSA is NASA's home for infrared data from many different missions and telescopes. We have to make all of these data easily accessible and usable by the worldwide astronomical community. My job title is Associate Research Scientist. There are two tracks here: research [50% science, 50% project] and staff [20% science, 80% project]. There are three ranks within each track: Assistant, Associate, and Senior. So, roughly speaking, I'm an associate professor kind of rank -- whereas a professor's service work is to spend time teaching, my service work is to support the observatory.

My husband is also an astronomer -- we met in grad school at the University of Chicago. We have a son who was born in 2008. Somehow, he is an athletic morning person. As any working mother does, I am continually trying to figure out how to be a supermommy. I enjoy travelling places as part of my job and try to take time off to see places I go. I read lots of mysteries and some science fiction. I love reading about other scientists' results in paleontology, ancient Egyptian archeology, and colonial American history. I do needlework and make jewelry, and other craft projects. I love to bake!

I've appeared on the Spacepod podcast twice -- first on Why we archive and second on spinning stars.
---
go back to my home page
---
Last substantially modified Feb 2018 by rebull
Any opinions expressed here are well-reasoned and insightful, but in no way reflect those of NASA, JPL, Caltech, or the SSC. No electrons were harmed in the creation of these pages.