SWIRE Observing Strategies and Fields
SWIRE has surveyed 49 square degrees distributed over 6 fields in the northern and southern sky, enabling follow-up with many existing ground and space telescope facilities.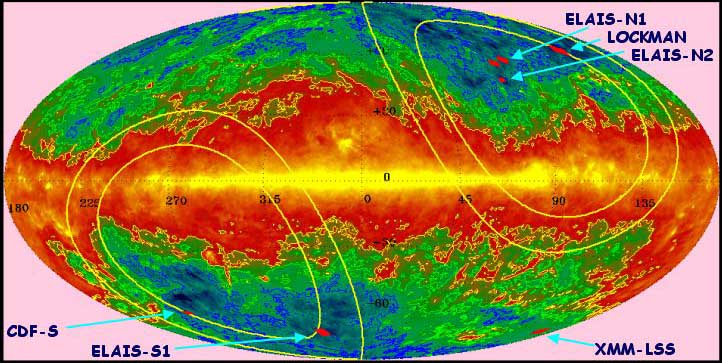 Hammer-Aitoff equal area projection in galactic coordinates of the 100µm sky with SWIRE Survey Fields shown in red. The contour levels in blue, green yellow are 1, 2, 4 MJy/sr, respectively. The yellow ellipses mark ecliptic latitudes of 30° and 40°. (Map by S. Oliver, U. Sussex, from the COBE/DIRBE & IRAS/ISSA maps by Schlegel, Finkbeiner & Davis 1998, ApJ, 500, 525.)

---
Field Selection
The SWIRE Team performed an exhaustive search for high-latitude fields with low-background to maximize the sensitivity of the SWIRE Legacy Survey. The fields selected represent, in many respects, the largest, lowest infrared background regions in the sky. The selection criteria were:
Low galactic cirrus emission (I < 0.5 MJy/SR) in order to minimize confusion and noise.
High galactic latitude in order to ensure Spitzer and Herschel visibility and to minimize zodiacal background.
Large contiguous area, to enable large scale structure studies.
Minimum contamination by bright stars, galaxies, radio sources, and galaxy clusters.
Availability of unique datasets at other wavelengths. Fields selected for SWIRE include areas of:

The European Large-Area ISO Survey (ELAIS) - ELAIS N1, N2, and S1.
The Chandra Deep South Survey Field.
The well-studied Lockman Hole.
For more information about field selection see Seb Oliver's SWIRE Field Candidates Web Pages.

You can also check out how some of your favorite fields stack up against SWIRE, e.g.:
---
Survey Areas
The total survey area is 48.3 sq deg in IRAC and 49 sq deg in MIPS. The survey areas and dimensions in each field are given for the final survey, and represent coverage in all bands of either the IRAC or MIPS instrument.
The Astronomical Observing Requests (AORs) are available using the SSC's Spot tool. Use the File->View Program option, and enter either the program name or program ID from the table below. The AORs can be visualized in Spot using the observation dates in the table.


Field
Center (J2000)
Area
Observing Dates
P.A. at Start Date
Program
RA
DEC
IRAC
MIPS
IRAC Start
IRAC End
MIPS Start
MIPS End
IRAC (°E of N)
MIPS (°E of N)
Name
ID
ELAIS N1
16h 11m 00s
+55° 00'
3.09&deg x 3.01&deg
= 9.3 sq deg
3.08&deg x 3.00&deg
= 9.2 sq deg
Jan 14 2004 15:05
Jan 20 2004 07:06
Jan 22 2004 00:28
Jan 28 2004 01:41
226°
219°
SWIRES_ELAIS_N1
185
Lockman Field (image)
10h 45m 00s
+58° 00'
3.69&deg x 3.01&deg
= 11.1 sq deg
3.66&deg x 3.00&deg
= 11.0 sq deg
Apr 24 2004 12:11
Apr 30 2004 02:19
May 04 2004 00:53
May 11 2004 02:04
46°
38°
SWIRES_LOCKMAN
142
ELAIS N2
16h 36m 48s
+41° 01' 45"
1.74&deg x 2.41&deg
= 4.2 sq deg
1.92&deg x 2.50&deg
= 4.8 sq deg
Jul 05 2004 04:58
Jul 07 2004 03:47
Jul 07 2004 23:27
Jul 11 2004 00:42
60°
57.2°
SWIRES_ELAIS_N2
183
XMM-LSS (image)
02h 21m 20s
-04° 30'
3.01&deg x 3.01&deg
= 9.1 sq deg
3.08&deg x 3.00&deg
= 9.2 sq deg
Jul 23 2004 17:53
Jul 28 2004 05:22
Jul 30 2004 02:39
Aug 05 2004 02:48
158°
160°
SWIRES_XMM_LSS
181
Chandra-S
03h 32m 00s
-28° 16'
2.64&deg x 2.97&deg
= 7.8 sq deg
2.61&deg x 3.00&deg
= 7.9 sq deg
Sep 09 2004 13:00
Sep 12 2004 23:04
Sep 13 2004 21:04
Sep 18 2004 11:31
184°
188°
SWIRES_CHANDRA_S
184
ELAIS S1
00h 35m 00s
-43° 40'
2.31&deg x 2.93&deg
= 6.8 sq deg
2.30&deg x 3.00&deg
= 6.9 sq deg
Dec 18 2004 09:46
Dec 21 2004 04:57
Dec 22 2004 11:49
Dec 24 2004 07:26
328°
331°
SWIRES_ELAIS_S1
182
---
Ancillary Data
This is a list of data which are being used as part of the SWIRE science project. More data exists (e.g. SCUBA fields in the Lockman Hole, etc.) than has been listed here.
Pre-Existing Data
Optical/Near-IR Imaging
The ELAIS fields have been extensively surveyed at a variety of wavelengths with optical data to typical depths of 22-25 in a variety of Gunn filters.
Radio
The extremely large size of the fields and great depths makes observation of a radio dataset of comparable depth and breadth impossibly time-consuming. The ELAIS fields have radio observations already available.
New Data
In addition to the large amount of data already extant for at least portions of the above survey fields, the SWIRE team has aquired new ground-based data for use in interpreting the Spitzer data. Specifically, we have acquired:
Optical/Near-IR Imaging
Ground-based observations at KPNO, CTIO and Palomar Observatories for optical identification of the entire Lockman, Lonsdale and Chandra-S fields to r' ~ 25. We are executing multi-band imaging of smaller areas (3-4 sq deg) within those fields to g'~26, r'~25, i'~24 using the NOAO/CTIO Mosaic Cameras and the Palomar Large Format Camera and . Lockman/Lonsdale to K'~19.5, using FLAMINGOS at KPNO. Further observations are underway for the ELAIS Fields by UK team members. Extensive XMM-LSS Optical follow-up is planned at ESO and the CFHT with additional Near-IR observations also planned.
Radio
The XMM-LSS field will be completely surveyed at radio wavelengths 90 and 400cm to a depth of 1 mJy.
Watch this space!
A variety of additional observations are being executed including X-Ray and Radio observations. Details will be forthcoming...